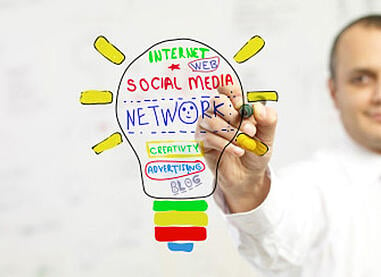 Web Traffic seems to be the hottest topic these days. "How do I drive more traffic to my site? and How do I get qualfied leads?" are the two question we get asked often. In this article we want to talk to you about a pretty cool, growing and Xziting social media strategy for driving traffic to your website. What makes this growing strategy Xziting, is that it will help you create more targeted exposure to people who want your product or service. If used correctly, this cost effective strategy can also increase the traffic and clicks to your site, reducing your marketing costs.
Listen, we know the importance and believe in having very good SEO. But it takes time. With a well develop social media plan, the new strategy we are talking about can start driving qualified traffic to your site right away. This tool gets billions of page views a day and it's responsible for a substantial amount of all the page views online!
If you haven't guessed it by now, we are talking about Facebook and Facebook Advertisement as a social media marketing strategy. Even if you don't know much on how to utilize Facebook to grow your business, at least you and your business should be on Facebook.
What makes Facebook one of the best social media strategies to drive traffic to your website is that it's so easy to use. A Facebook user spends on an average about an hour a day on Facebook. With that many people "hanging out" on Facebook, it's clearly a great source of traffic.
People are socializing, catching up with friends, making new friends, talking about and recommending products and services. It's another form of referral marketing, one of best types of marketing. We don't need to further explain the value of that.
Now let's talk about Facebook Advertisement and what makes it so effective as a social media strategy. There are 500 million users with profiles, which means Facebook ads can be very targeted, users see ads to things they are interested in. It's the ability to target that makes it so effective. You can target your ads by age, sex, marital status, interests, hobbies, location, education, and more.
Facebook Advertisement works for all types of products and services and should be considered in your social media plan. It is a great lead generation tool that has the potential of increasing your online conversion rate and more importantly, increase sales. Can you see the value you of advertising on Facebook? How about the fact that your ad is the only ad they will see at a time?
As you know, Xzito, with its creative solutions, can help you develop your Facebook strategy, brand your Facebook Fan Page, set up and manage your profile and manage your advertisement campaigns. As always, your campaigns will be led and managed by one of our highly knowledgeable and experienced account executives.
This will free up your time so you can focus on your business. Let's chat about how you can hire an entire marketing department for less than you would pay for a marketing employee. Call us today at 401-709-4342. Learn more about our Social Media Marketing Services and our Pay Per Click Programs.
Check out our

page for our Free Workshops on How to Connect Buyers and Sellers in Today's Digital World!