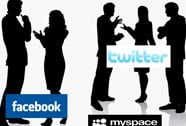 There is no doubt about it anymore. You and your business need to be on Social Media. It is evident that the way we do business has changed thanks to a shift in the way business and consumers communicate. It's no longer a one way communication - from business to consumer; it's a three way conversation between businesses, consumers and their friends.
I think we can agree that traditional advertisement just doesn't work like it used to. Just ask yourself, who is still looking in the yellow pages to find businesses or services? Not even my 50 year old father does. He has email, Facebook and he Googles and YouTubes the information he wants.
The revenue impact of Social Media in the business world is more significant than you think. Recent trends are showing that companies have been investing more of their advertising and marketing efforts into social media and inbound marketing instead of the traditional offline marketing because they are seeing an increase in their onlineconversion rates and better ROIs.
The "Social Media Revolution" is a powerful tool that You don't want to miss out! I strongly recommend you to start learning and building your business online reputation in the social media world so you take advantage of the opportunities social media has to offer.
Here are four reasons why:
1.Guard Your Business Online Reputation. People are talking about your products or services, giving recommendations to their family and friends.
2.Lead Generation Tool. You can have conversations with your target market, building trust; therefore, people are more likely to want their product or service.
3.Become More Socially Interactive. Businesses can build new relationships in a way that is more effective than having a static website.
4.Social Media is free which makes it very cost effective.
In today's market, businesses need a creative social media strategy to leverage cost effective tools to be able get more done, and we believe social media is one of them. We know that the buzz surrounding Social Media can be overwhelming, but if you take it one step at a time, your business can immensely benefit from using Social Media.
You are not alone and you don't have to do it alone. Xzito can help you define your Social Media Strategy. Let's chat about how you can leverage Xzito's Social Media Marketing services. Call us today at 401-709-4342 or email us at support@Xzito.com.
Check out our

page for our Free Workshops on How to connect buyers and sellers in today's digital world!