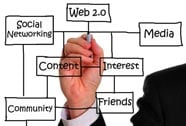 In my article, Why Should Your Business Take Advantage of the Social Media World? I shared how Social Media is different and more cost effective than traditional marketing. The conversations are no longer a one way monologue from business to consumer. With Social Media, is now a three way conversation between businesses, consumers and their friends.
While Facebook, Twitter, LinkedIn, YouTube, and Blogging are the most popular social media tools that you can leverage to grow your business, there are also other tools such as email marketing and mobile marketing that you can use to build your relationships and manage your social media presence.
The key thing to remember is that this is SOCIAL media, so in order for it to work for you, you need to BE SOCIAL and use it. This is an opportunity for your business to develop relationships with people and give your business the human touch that people really connect with.
Having a Social Media profile is not enough, you need to keep it active. Think of the message your giving prospects when they see your page has not been updated. However, leveraging your social media efforts effectively means more than just posting and tweeting... you have to do it right. Not using Social Media correctly can hurt you more than it can help you.
Here are 5 tips to help you be successful with Social Media.
1. Have a comprehensive and integrated Social Media strategy. This is fundamental to your success. Without a plan of what you are doing and why you're doing it, it can be very time consuming and waste of your precious time.
2. Reserve your business name on multiple Social Media platforms. There are over 250 different Social Media platforms out there. You want to make sure you reserve your name at as many of these Social Media parties before someone else gets the name. Protect your business online reputation.
3. Brand your Social Media Profiles. Brand consistency and Brand recognition is very important. In the sea of endless brands, you want to make sure your brand always stands out and is quickly recognized by your clients and your prospects.
4. Leverage Social Media Tools. There are many different software out there (some are free and some have a cost) that will allow you to simultaneously post on several of your social media platforms and even schedule your posts. Check out these 4 free ones: seesmic, pixelpipe, ping.fm, and tweetdeck.
5. Measure your Social Media Marketing. It is important that like any marketing effort, you don't forget to measure your Social Media efforts. Otherwise, how will you know what is working and how to make improvements based on that feedback?
Having a social media presence can also help your business increase its onlineconversion rates by acting as a lead generation tool.
We are confident that you will benefit from these tips we have shared with you. If you are still overwhelmed or are too busy to do this on your own, give us a call. At Xzito, we will assess your needs and assign an executive brand assistant who will focus on helping you create and manage your social media marketing so you can focus on growing your business.
Let's chat about how you can hire an entire marketing department for less than you would pay for a marketing employee. Call us today at 401-709-4342 or email us at support@xzito.com. Learn more about our Social Media Marketing Services
Check out our

page for our Free Workshops on How to Connect Buyers and Sellers in Today's Digital World!