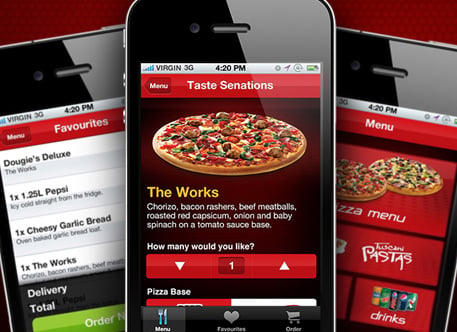 Why do many restaurant owners say, "You can't order food online"? The fact is your competition is already doing it. I was working late last night, so I decided to order take-out using my iPhone. I went to the Dominos Pizza website (DominosPizza.com) to place my order.
I was able to view the entire menu, enter my zip code to select the nearest Dominos near me, enter my contact info, add additional delivery instructions, and pay with credit card or cash. Once ordered, I received a confirmation number with order details and a local phone number to call with any questions or concerns. I called 30 seconds later, just to confirm the order; as I expected, they had received my order and my pizza was already in the oven!.
What an awesome and unique "x"perience! I would strongly encourage all restaurant owners who do takeout to look into adopting some sort of online ordering system; not only will it set you apart from your competitors, it will also minimize the risk of errors when ordering your food via phone (since the exact order's documented automatically). The web is rapidly transforming the way we process and request information, so if you are a restauranteur or know someone that is, feel free to contact one of our Xzito team members. We will be more than happy to provide a free initial consultation.