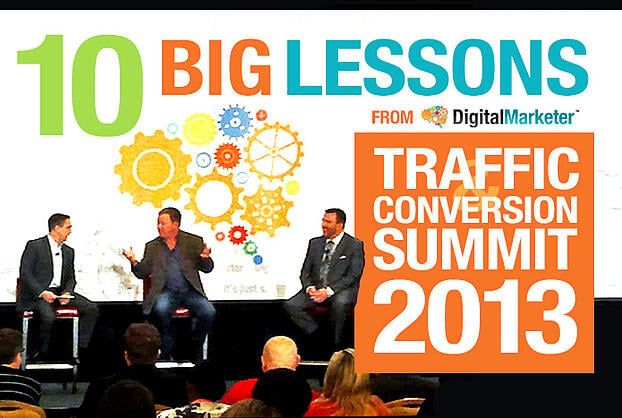 ...and how the organizers practiced the following techniques to get me to attend.
The Traffic & Conversion Attack
It was typical Tuesday morning at Xzito. I poured a cup of coffee and started my routine of checking emails, snail mail and social media.
This is when the attack started. I started receiving marketing messages to attend an industry conference - the DigitalMarketer "Traffic & Conversion Summit" in San Francisco. I tried to ignore all the marketing messages, but GUESS WHAT? I kept seeing them in multiple online and offline marketing channels…from targeted Email to Postcards and Banner Ads. Not just that Tuesday, but over the course of 2 weeks.
After seeing the message over and over, I realized that they were closely targeting ME. I started paying attention, connected with the message and its limited offer promotion and decided to take out my credit card. Not just for me, but for four members of our leadership team. 1,800 others did the same, and the conference sold out.
Here are the 10 Big Lessons:
1. To be visible, leverage multiple channels. Today, in order to increase consumer trust and engagement with your brand and messaging, your communications must be visible in online and offline channels. Channels include Email Marketing, Postcards, Text Messages, and many more! Don't be shy. If you have something of value, make sure others can learn more about it! Leverage multiple channels to distribute your communication.
2: Build & Protect your List by leveraging CRM Applications and Marketing List Management Software. Companies without a customer and prospect database are wasting their time. To win today, brands must capture as much relevant information about their customers, prospects, competitors and Influencers - and deliver customized communications that appeal to their emotional and logical needs and wants.
3: Apply the Dollar Store mentality to speed up the purchasing process. Have a low barrier to entry for your clients. People love to buy, and the lower their perceived risk in making a purchase, the easier you make it. Create a product or service that is low cost or FREE and you'll convert more leads into customers. Make the purchasing process fun, create and expand customer relationships, and then introduce offers for additional product or services.
4: Analyze Your Search Engine Optimization Metrics to ensure Google's Panda and Penguin search algorithm updates aren't reducing your web-traffic. Panda can impact web traffic site wide. Penguin impacts specific keywords. Make sure you hire a reputable firm that follows Google's best practices for Search Engine Optimization.
5: Leverage Pay-Per-Click re-targeted web banner ads to follow web users who visit your web-site, and landing pages. Have you ever visited a site and kept seeing their promotions? This is re-targeting, and it is extremely powerful. Optimize the campaign for the best-converting offers, referral sites, time display, and language.
6: Optimize your website for Mobile Platforms. More and more people are opening emails and browsing web-sites via Mobile Devices. Have you optimized yours for their smaller screens? If not make sure you build mobile friendly or mobile-responsive web-sites. You can't afford not have to a mobile communication strategy.
7. Conversion Optimization can be improved not only by improving your landing pages, but by improving your open rate and click through rate. If we can just get more people to open our emails, offers, and click through and view our landing pages we can double or triple conversion. Test different subject lines, headlines, calls to action, colors, and more to learn what is working and what is driving better results.
8: Affiliate Marketing is King: Leverage it to enhance the effectiveness of your sales force. Build your affiliate network by leveraging your customers, service reps and strategic partners. Reward them faster and better than your competitors and you will grow your sales tremendously.
9: E-Commerce is a baby, but it's growing up fast. 4 to 5 years ago you couldn't convince people to shop online, but today 8% of all US Retail Sales come from E-Commerce. And, it's growing fast, about 15% per year. Make checkout easy, cross sell, offer online chat, and create pop up offers to grow your online business.
10: Build Your Brand with The End In Mind. At the end of the day, we all want to generate tremendous wealth via customer loyalty. Otherwise, why be in business. Key questions to ask yourself are, "Do I have the right leaders on my team? Do I analyze the right metrics? Can I scale and grow my organization with higher traffic and conversion?"
If you'd like to talk in more detail about the Big Ideas from the conference, we'd love to hear from you. Write us a comment below or contact us.