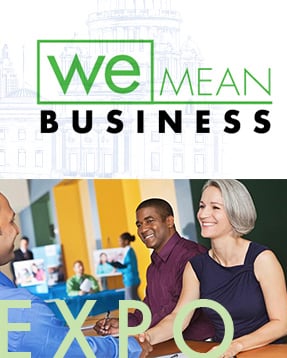 From the inception of the "We Mean Business Expo," the Xzito Team has been a sponsor and contributor toward the cause of helping entrepreneurs start, grow, and expand their businesses in Rhode Island. Let's examine 4.5 reasons why you need to attend the annual "We Mean Business Expo" from 10 a.m. to 3 p.m. September 3, 2014.
Reason #1: The Expert Connections:
What if you could ask a CPA, lawyer, and marketing experts questions on how to start, grow, or expand your business? How much time could you save by having all the top industry experts in the state in one room, on one day? During the expo, you will have that opportunity at an area dedicated to starting your business called the "Smart Start Room."
Reason #2: Connect with the State:
The expo will allow you to meet with local and nonprofit government agencies that can provide answers about regulations, permits, licenses, and grants that are needed to run your business in Rhode Island. Ensure that you understand and comply with the rules and resources available to successfully operate and grow your business. Meet the Department of Labor and Training, Commerce Rhode Island, Secretary of State, government officials and other exhibitors ready to serve you.
Reason #3: Workshops:
A variety of workshops (breakout sessions) will be offered throughout the day. One featured workshop titled "Linkedin for Business" will be presented by Gil Lantini of the Rhode Island Small Business Journal. He is a dynamic speaker and successful entrepreneur with a breadth of experience in the marketing industry. Are you leveraging LinkedIn to win more business?
Reason #4: Peer Networking:
Business owners are not a common breed; it has been said that you must be a little crazy to want to start or grow a business. For that reason, the shared experiences of like-minded entrepreneurs can be supportive, encouraging, and extremely rewarding. At this annual event, you will be able to network and learn from entrepreneurs whose businesses are at different stages of their life cycles.
Reason #4.5: The Xzito Team:
Our team has created multiple strategies to help new businesses that come to the "We Mean Business" annual event to develop into emerging start-ups and then to established enterprises. Swing by our booth, pick our brains, and learn strategies to leverage the web to win!
The event at the Rhode Island Convention Center in Providence is fast approaching. It will be held Wednesday, September 3, from 10 a.m. to 3 p.m. Don't forget to register to obtain your welcome kit and name badge.
To learn more about We Mean Business, click on the video or preregister for the event below!