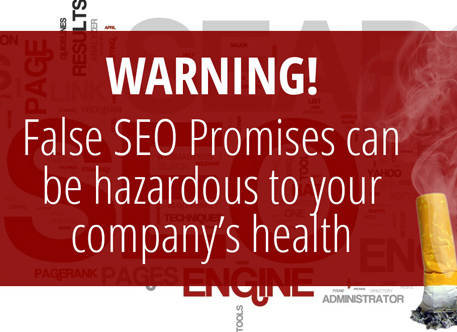 Chances are, you've received emails from an "SEO service provider" about the "lack of any significant ranking in Google for any of your main keywords. How would they know, do they have access to your analytics? or the list of the keywords your targeting and their respective ranking?
Usually, these emails come from public email providers, such as Gmail or Yahoo, and don't mention their company name. Some of them do claim to have 100+ employees. If this was true, I'm sure they could afford to have a company website and a proper email domain. Wouldn't you agree?
These emails have become so popular that even Matt Cutts, who heads the Webspam team at GOOGLE, received one of these emails. He said be "SKEPTICAL". We say, be careful who you decide to engage to manage your SEO Strategy, as these promises can be hazardous to your companies long ranking success.
Here are the top questions prior to hiring an SEO company?
Can you show us results & examples of increase in ranking, traffic, leads and customers?

Successful online marketing agencies use Internet Marketing Software to keep track of ranking, incoming traffic, leads and customers acquired from SEO. Its important to ensure the agency you hire has these capabilities and ask for example's, case studies, testimonials, etc.

Do you have any specific industry SEO certifications?

It's important to hire companies that are constantly updating their skills based on industry best practices and changes in SEO. In our team our SEO consultants are certified in Inbound Marketing and have received SEO certifications from OMCP. Our team constantly reads industry blogs, attends webinars and conferences to learn the latest changes and strategies in the industry. But more importantly we are like scientist, constantly testing to see what works!

Do you work with any of my competitors? There is only room for 1 company in the #1 position. It's important to work with an agency that is not representing any of your competitors, unless you are optimizing for completely different keywords and/or markets.
Do you have any long-term commitments? SEO is a long-term process, it does not happen over night. If you need fast results we recommend Pay-Per-Click Management Services as you will climb to the top of the search engines quicker. Why? Because your paying GOOGLE. Typically to see rankings start to improve you could be looking at 6 months or more, depending on the competitive nature of the keywords.

What additional services do you provide besides SEO?

SEO is all about conducting the proper keyword research, on-page, off-page optimization and analysis to continuously improve ranking and web traffic. It's important to also hire an agency that has strong capabilities in helping you drive traffic to your web-site via other channels, including social media, company blog, email marketing, etc.
EXAMPLES OF SEO SPAMMER EMAILS:
---
Email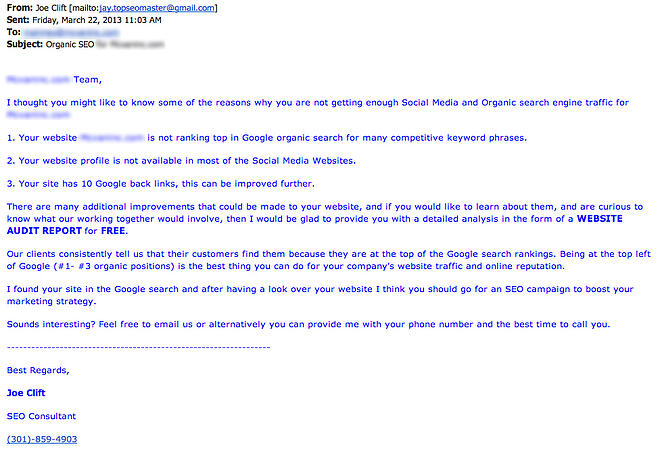 ---
Contact Us Form

---
As Matt Cutts, says, be "SKEPTICAL" and "CAREFUL" when engaging an SEO agency, as SEO is a long-term strategy that, when done right, produces valuable results that impacts your sales and company ROI. Questionable SEO practices can certainly be extremely hazardous to your company's online health.