As a leader within your organization that wants to dominate the web, there are 5 basic SEO terms and concepts that you MUST understand to impact your web traffic, leads and customer acquisition. Whether you are hiring an agency, or trying to understand the SEO world on your own, you should know the following:
what is SEO?

what is the difference between SEO and paid results?

what is a meta title & descriptions? and how does it impact search results?

what is keyword targeting?

and finally what is link building?



Let's dive in into each of these questions in more detail:
#1: What is SEO?
In the Internet marketing world, SEO stands for Search Engine Optimization. SEO is an online strategy that places you on top of the search results to ensure your prospects find you when they are searching for specific "keywords" related to your products or services online. When done right, your SEO will help you increase the quantity and quality of the traffic you receive through the organic results in search engines such as Google, Bing, and Yahoo.
Here is how a search engine result or SERP usually looks like when we look for the keyword "baseball cards":
#2: Paid vs. Organic Results

At the top of these search results, you'll frequently see paid ads, listed below in YELLOW. These are ads that you can buy through Google's Adwords program. This is also known as pay-per-click or PPC.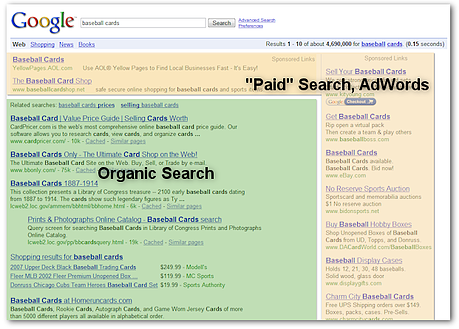 SEO influences the Organic Search area (GREEN AREA), also known as natural search results. These results are determined by Google's search engine algorithm. The order in which these results are organized, is based on ranking elements that Google considers in their algorithm. According to Moz.org, organic results receive between 80% and 82% of all search traffic, compared to 18% to 20% of paid ads.
This is the reason why SEO is such a powerful channel with billions of people searching, looking for information about your products or services everyday. Are you showing up?
#3: Meta Titles & Descriptions
There are different tactics to increase your website traffic from the organic results. One important aspect within SEO is to write captivating page titles and descriptions for your web pages. When you develop captivating content and include your keywords in your Title & Meta Description, you will improve your click-through rate (CTR). This is only one of many tactics to obtain clicks, but in general, optimizing your meta tags will help.

#4: Keyword Targeting
Targeting a larger number of keywords is always a good way to get more traffic. You can improve the performance of pages that already exist on your website to make them more accessible to search engines. You can also create new content by adding more pages or creating blog articles and other content assets, such as e-books, checklists, etc. Think about it, the more pages you have with keywords, the higher the opportunity for you to get additional traffic to your site.
#5: Link Building
Link building involves activities that will help you rank higher on the search engines. Why? Because if others are linking to you for a specific keyword or theme of keywords, your site must be popular, Google says! Link building consist of getting links from external sources to your website. You can obtain links back from your social media profiles and social sharing, other people sharing your blog posts, other people referencing your website in their content or website, etc.
That's SEO, and if you want to dominate the web you must understand some of those basic concepts and terms. Keep in mind that SEO should not just be about the "search engines", it is always about your users and making an exciting browsing experience. Learn what SEO indicators you should know to understand how much lift are you getting from SEO campaign.
If you still have any questions about SEO, feel free to leave a comment below or contact us.